Women Shoes
5 Tips for Making Heels More Comfortable with Wide Feet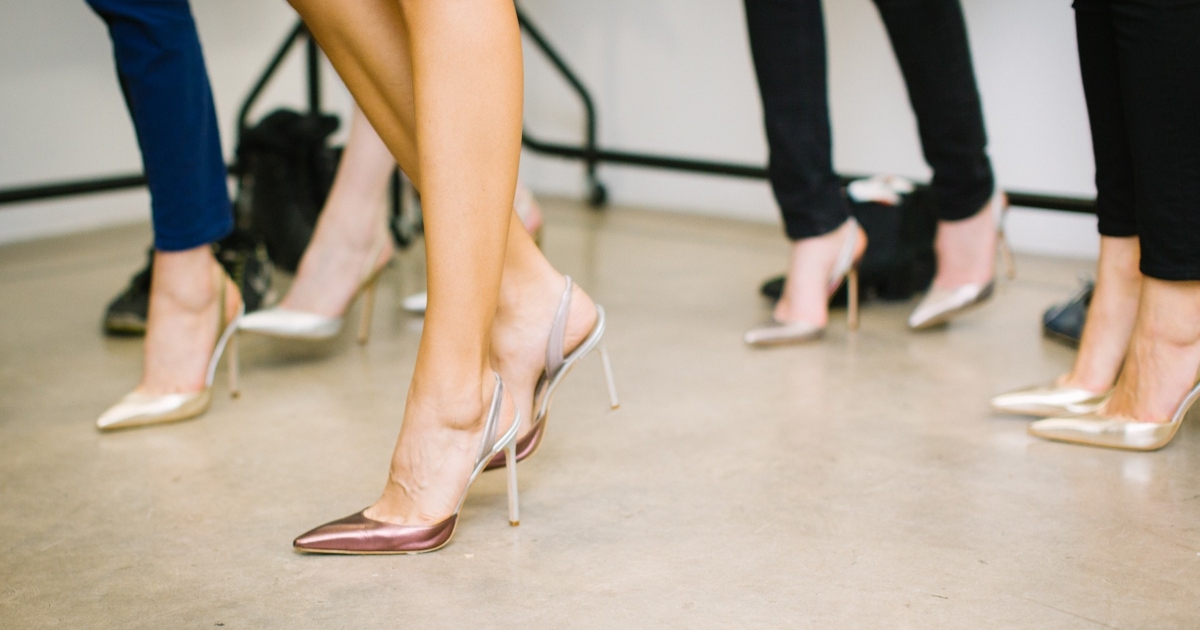 Perhaps you already have a pair of heels that you love, but you've found that they're just not comfortable to wear due to your wide feet. In that case, there are a few things you can try to make your beloved pair of shoes more comfortable to wear on a regular basis.
On the other hand, you might just need some help choosing the right pair of heels for your wide feet. No matter what problem you're having, try out the tips below and see if they help!
1. Stretch Them Out!
As mentioned, certain materials will stretch out as you break them in. Even if they are entirely uncomfortable when you first put them on, they may become the most comfortable pair you own once you stretch them out properly! Here are a couple of ways to do this:
Wear Them Around the House
Although you might feel a bit silly doing so, one of the best ways to stretch out and break in your heels is to put on a thick pair of socks and walk around the house with your heels on. The socks will prevent you from getting blisters, and while they may feel a bit tight at first, they'll gradually loosen. Once you put them on without socks, you'll be shocked at how much extra room you now have!
Go Over Them with a Blow Dryer
Heat will cause almost anything to expand, so hitting your heels with a blow dryer on the warm or hot setting before putting them on may soften them enough to put your foot in comfort. You can repeat this process each time you wear your shoes, and eventually, the heat and continued wear will help them stretch out.
You may have seen a shoe stretcher tucked away in your mother's closet when you were young. If you aren't familiar with them, a shoe stretcher is a device that will allow you to stretch out your heels without much effort (or discomfort) on your part. They work best on shoes made from natural materials but should make a difference in any shoe you use them on.
When you're looking for a shoe stretcher, make sure to find a two-way model. Traditional shoe stretchers will only adjust the length of your shoe, but if you have wide feet, you'll need the two-way version to widen the shoes as well. If you have any problem areas on your feet, such as bunions or areas that are prone to blisters, look for one that includes bunion plugs. This will give you a little extra room in these specific areas.
To use a shoe stretcher, you'll need to first get some stretching spray. Spray this on the area you want to stretch, then wait a few minutes for the shoe to absorb it before you begin. Next, take your shoe stretchers and insert them into each shoe. Turn the knob to begin stretching, and keep turning until you feel some resistance. You want to leave the stretcher in this position inside the shoe for at least 12 hours. The longer you leave it in, the more the shoe will stretch.
2. Get Some Gel or Padded Inserts
There are several kinds of gel and padded inserts you can place inside your shoe to make them more comfortable to wear. Before you choose to use this tactic, you should know that adding any kind of insert to your heel will make it tighter. Try to use it on a shoe that's a half size bigger than you typically wear for best results.
There are a few options for inserts, and the best one depends on the specific problems you're having while wearing heels. Here are some of your choices:
Ball of foot cushions: These are a good option if the majority of your problems come from the pressure heels put on the ball of your foot. The extra cushioning will improve shock absorption to lessen this pressure and relieve any soreness you feel in this area.
Gel heel liners: If your wide feet cause your heels to rub up against your heel, try a gel heel liner. This will prevent any blisters caused by the rubbing.
Insole inserts: Insoles may run through half of all of the soles of your heel. It not only adds cushioning to make wide feet feel more comfortable, but it can also alter the weight distribution of your feet in heels to relieve some of the pressure you feel.
Arch inserts: These are good for anyone with high-arched feet. Placing arch support in your shoe can reduce any strain you feel in your ankles or knees.
3. Try a Shorter or Chunkier Heel
The higher and skinnier the heel, the harder it is to balance. A shorter, chunkier heel will give you a better support base, making it easier to walk and balance for longer periods.
Wedges are always a safe bet, as are kitten heels. If you still want a bit of height, try platform heels. While they have all the height of traditional heels, they sit at less of an angle. This makes them far more comfortable than something like a stiletto.
4. Never Go for Pointed Toe Heels
Although pointed-toe heels have been extremely popular for years, they tend to compress even the narrowest feet! This is only exacerbated when you have wider feet, so try going with a heel that has a more rounded toe.
A rounded toe can be especially helpful if most of your pain comes from the sides of your feet, right by either your big toe or your baby toe. If you've been wearing pointed heels this whole time, you will be shocked at how much of a difference a more rounded toe makes!
5. Try Adjustable Strap Heels
Heels with an adjustable strap in place of a back can make a world of a difference for those with wide feet. You can adjust the strap as needed, which is especially helpful if your feet tend to swell and expand throughout the day.
All of these things are important when trying to make heels more comfortable for wide feet. Something you definitely want to avoid is buying shoes you will only wear once. I know my closet is full of single use outfits and shoes.